I am continuing on with the previous post of my wedding by telling you about my reception and honeymoon! :) To join, check out
Kelly's Korner Blog
for details.
Our reception was at the same location as our wedding, but under a tent about 50 yards away. It was a fall themed decor. Everything was rustic. The centerpieces were burgendy candles in a hurricane vase with river rocks at the bottom. They were beautiful (but unfortunately because it was so hot out and I was dumb enough not to do a candle test to see how long they burned, they had melted before the wedding party even got to the reception!). We gave out packets of apple cider as the favor.
Here is a picture of our cake. It is chocolate cake with chocolate icing and a chocolate filling. It was AMAZING!!! We also had two sheet cakes for people who aren't chocoholics like us. I made the "WE DO" letters on the table. And when we moved I lost our cake cutting set. I am so sad about that. I can not find it anywhere.
Since the ceremony was breezy, we had to do our unity candle at the reception. Here is a picture of that:
Our first dance was so "When I Said I Do" by Clint Black
We cut the cake to the song "Sugar Sugar", and then fed it to each other to "Hit Me With Your Best Shot!" (although we were nice and didn't smash it in each other's faces. I did dab it on his nose though).
I can't find a picture on my computer of me dancing with my dad, but there is a nice story for it so I'll tell it to you. My family LOVED the movie "Mr. Holland's Opus" when I was growing up. I used to play the clarinet and there is a song in the movie where Mr. Holland tells the girl playing the clarinet to "play the sunset". My dad loves that part and loved when I would play that song on the clarinet. To this day that song always reminded him of me. Well he had picked out "I Loved Her First" by Heartland to dance with me to, however I had a surprise up my sleeve. I was going to find the song my dad loved from "Mr. Holland's Opus" and we were going to dance to that. Unfortunately, it isn't on the soundtrack. I was trying so hard to find it and couldn't, so two days before the wedding I told my dad what I had wanted to do and that I was sorry I couldn't find the song but I wanted him to know that it was going to be a surprise for him. Well he went home that night and found the song and downloaded it and sent it to me. We danced to that song at the wedding.
Jeff danced with his mom to "Memories" by Elvis Presley.
Here is me throwing the bouquet. See the girl charging for the bouquet? She practiced and practiced to catch it for the MONTHS leading up to the wedding. Now see the girl on her right, standing still in the black dress? She was the one who caught the bouquet.
I just love this picture for some reason, haha. And I surprised him. I had on a New England Patriots garter and toss garter. :)
Ok, now look at the next two pictures. The first is Jeff trying to fling and in the picture it looks like it will go very far. But the picture below is our reaction to the garter falling to the ground, very short of where they guys were waiting.
The day after our wedding we had a luncheon for anyone who was staying in the area and wanted to come. We ate the left over food from the day before, watched the slideshow that I spent HOURS on that didn't work at the reception, and Jeff and I opened gifts.
I did have one surprise up my sleeve. I ordered a New England Patriots ice cream cake (my husband's FAVORITE kind of cake) as a groom's cake, which I served at luncheon. No one got a picture of it until Jeff started to cut it, so here it is:
In our family, it is a tradition to any man getting married into the family to have "the talk" with one of my male family members. In this case, it was my great-uncle, who is a cop, haha. Here is the picture of him giving Jeff "the talk". I warned Jeff ahead of time that this would happen, I just didn't know when, haha. It was all in good fun (and semi-seriousness!) though.
Just Married!
For our honeymoon we went on a Royal Caribbean cruise to Key West, Cozumel, and Belize.
Key West... we didnt' do any excursions here. We decided just to walk around.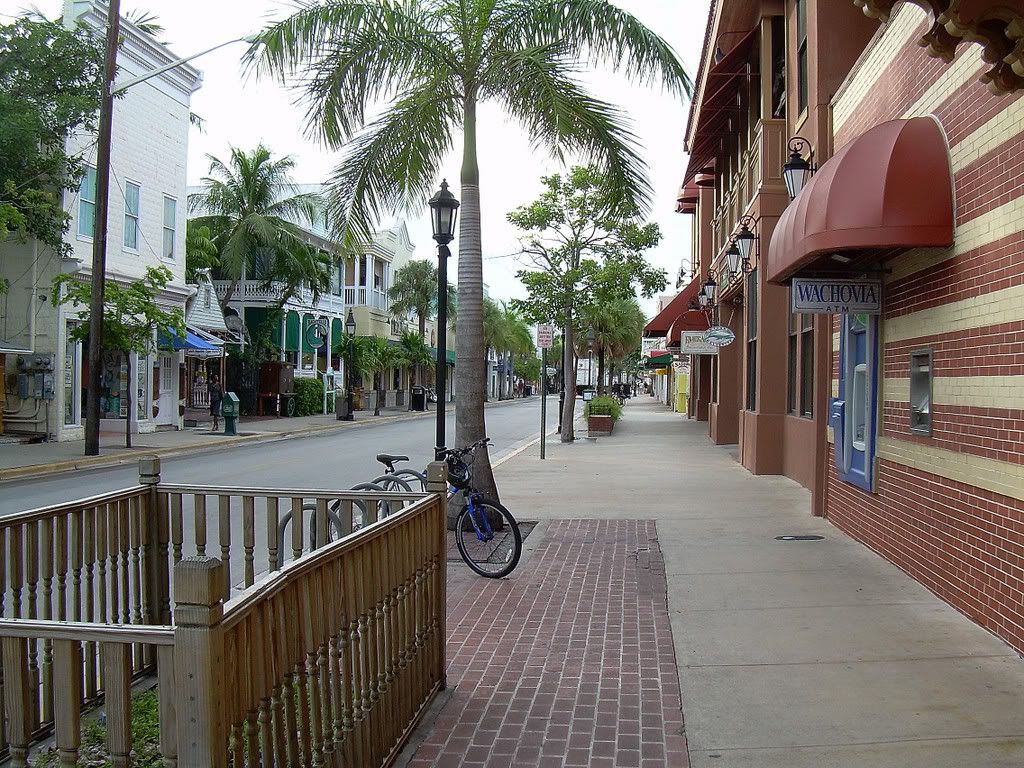 Cozumel... we spent a day at the beach. It was actually a really disappointing. We were expecting a relaxing day on the beach, and it was mobbed with people. Massages on the beach, and it was in the middle of all the crowds and you had to pay for them. The all you can eat buffet was terrible! The only good thing about it was the drinks, which were very good. It was an open bar. I won't go back to Cozumel (and really have no desire to go back to Mexico).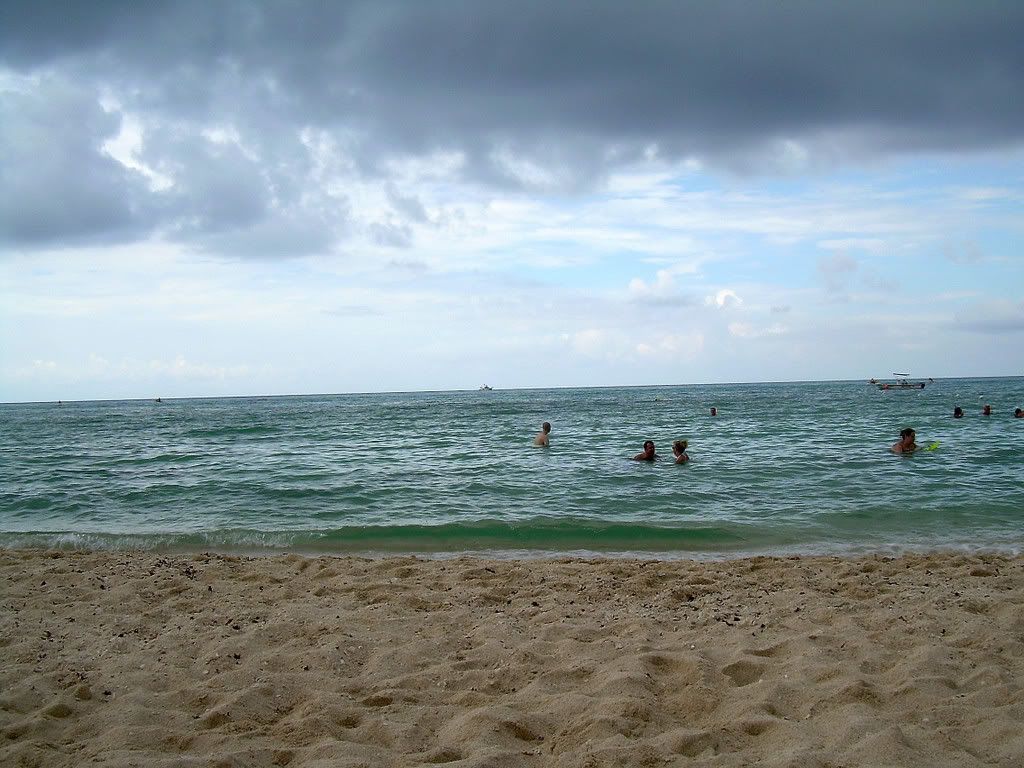 Belize was BEAUTIFUL! We went on a Jungle Buggy tour to Mayan caves. I would love to spend more time in Belize.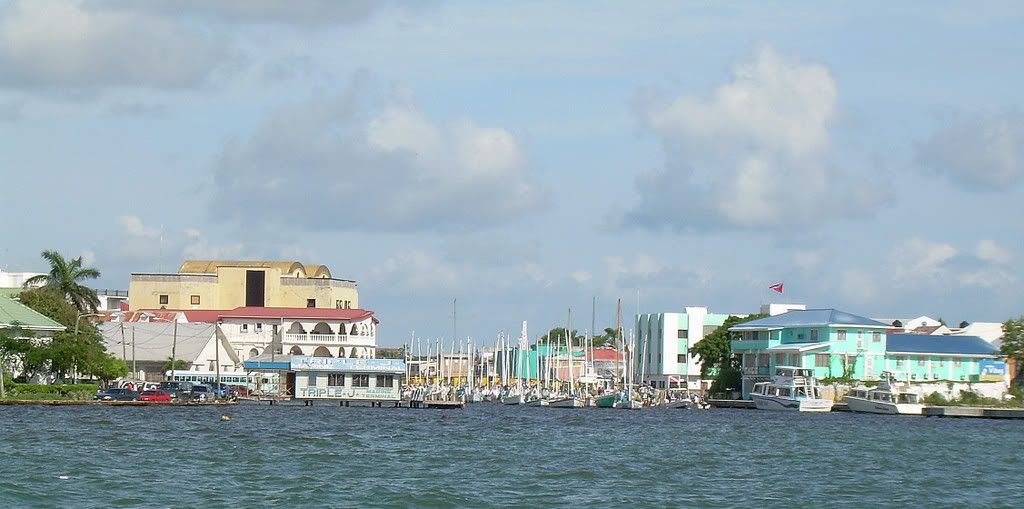 The best sunset picture I got while I was on the cruise.
This picture cracks me up. There was a very nice, but confused man who offered to take our picture next to this ship model. He then aske dus where we were from and we told him Lancaster, which is where we used to live. It is known for the Amish. He actually asked us if we were Amish! If you don't understand why this is funny,
read this article
.
Overall it was a fantastic cruise! We can not wait to cruise again!